What is OutShare?
OutShare is a downloadable PC application (OutShare Synchronizer plug in for Microsoft Outlook) and a hosted by us service (OutShare Service) for synchronizing and sharing your Microsoft Outlook (not Outlook Express) data with Outlook on your other PC or other users' PCs. OutShare available for a free* trial here. OutShare offers a variety of features, but the basic process is simple: select Outlook folders you want to sync or share on one of your PCs and synchronize them with (upload to) 4Team Exchange Server** (OutShare Service); install Outshare on your other PC, log in to your OutShare Service account from that PC and synchronize your folders; the program will automatically download all the data to your new PC; any changes in the synchronized or shared folders will automatically propagate to the other machine. The initial synchronization may take some time, but after that only changes will be synchronized.
We are also offering free* trial version of Outshare web access service (OWA) that will allow you to access your Outlook data without Outlook via web browser or you can share your Outlook data with users without Microsoft Outlook.
Frequently Asked Questions
What are the benefits of OutShare Synchronizer and OutShare service?
Microsoft has not released a synchronization utility for Microsoft Outlook. OutShare synchronizer enables you to make Outlook synchronization between PCs quick and convenient over Internet or LAN and keep your Outlook information on two or more different machines in sync. OutShare Synchronizer uses 4Team Exchange Server** or OutShare Service as your remote server data storage. You can use OutShare OWA to access your Outlook data via web browser. Among other benefits, you can***:
Work from your desktop (laptop) machines, online or offline
Synchronize as many PCs with Outlook as you want, without interfering with the actual work of your Outlook; you don't even need to start Outlook to synchronize it. Your synchronized data will look the same on any synchronized PC with the read/unread status, flags, reminders, custom fields, etc.
Share your Outlook Personal folders (Calendar, Contacts, Tasks, Email, Journal and Notes) with other users (friends, co-workers, family)
Create Public Folders (shared folders) without Exchange Server (Outlook Group folders: Group Calendar, Corporate Contacts, etc.)

Use OutShare Service (Server) to backup your Outlook data, to easily restore it at any time or create a clone to migrate the data to a new or reformatted computer.
Schedule synchronization to run automatically or manually
Enjoy the simple, familiar, Microsoft ActiveSync - like interface
Start sharing and synchronizing within minutes with OutShare Service or install 4Team Exchange Server ** on your network on any PC or server
Share and Synchronize without Microsoft Exchange server using our low-cost alternative
Access your Outlook data via web browser in a similar Outlook like interface with advanced OutShare Web Access Engine
Share Outlook data with users without Microsoft Outlook; share selected folders or even particular items; i.e. you can share your calendar and make it accessible online to any one or make your shared corporate list available via browser inside your company
Use your corporate structure to easily organize the users' access to the data; import from Active Directory, Outlook contacts.
Export any selected data to vCard, vCalendar or cvs format files
Use OutShare OWA as your virtual office and Webmail Client to your POP3, IMAP accounts.
Use connection and data securely
***Note: Some of functional features are limited in the current version and will be added in future versions.
Who should download OutShare?
OutShare can work for any user with Microsoft Outlook who wants to synchronize and share Outlook data personally or with other users. The application is particularly useful for groups even if some of their members do not have Outlook at all. There are no specific restrictions as to the group size and data in the Trial version. Please check the system requirements before signing up.
How much does OutShare cost and how to order it?
* Try out OutShare for free for 14 days! After that it will cost as much as similar services. The actual cost will depend on your group size, selected service subscription plan, storage space and other options, and started from as little as $4.95 per moth (12 month agreement) and less. With 1 service license you able to synchronize up to 3 your personal devices (PCs). If you plan to share data with your friend or coworker you need a 2 licenses (1 for you and 1 for your friend). To calculate your actual cost and order a service please check out OutShare Service Pricing list by clicking here.
In what languages is OutShare available?
At this point OutShare is available in the US-English language only. Sorry. We plan to add other languages during the second half of 2008.
How does it work?
OutShare synchronizer creates the OutShare database locally on your PC . During the synchronization process all changes made in your Outlook Personal folders on current PC are sent from this PC's local OutShare database to the server, where they are synchronized with all changes received from your other PCs' .During synchronization, you will also receive all changes made by other users in public and shared folders.
So, if you have several computers (i.e. your work computer and your home PC) where you want to have the same synchronized Outlook folders, install OutShare, using one and the same OutShare Service login ID.

Every OutShare user belongs to a certain Service Account. The Service Account provides space on the server where data of a group of users is stored. All the users of this Service Account have access to public folders, that have been created within the Service Account and are available only for users of this particular Service Account, according to permissions they have. The Service Account is created for easy administration and data security within the group of users. Every OutShare user can also have shared folders; these are the folders that the user was given access to by other OutShare users. Shared folders are available to users in conformity with permissions granted to them by the owners of these folders. Both public and shared folders can be accessed from the user's Outlook.

Besides, you can view all of your synchronized data on the Web using OutShare Web Access Engine – Personal and OutShare folders (public and shared folders) are displayed in the same way as in your Outlook.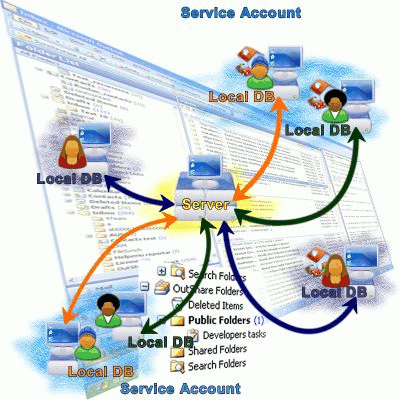 When do you plan to release "in-house" (installed on my server) OutShare?
We plan to release "in-house" OutShare or 4Team Exchange Server during the first half of 2008. Because of many changes and planned updates that the actual version undergoes before becoming a fully functional released version, we will not be able to release our server to general public . It is easy for us at this moment maintain a service to fix main problems that we will find during service exploitation. This server API and licensing options also will be available to developers to make your own products later this year.
What are the system requirements for OutShare Synchronizer?
At this time, OutShare synhronizer has only been tested for Windows 2000, Windows XP (Home/Pro), Windows Vista and Microsoft Outlook 2007, 2003, 2002(XP), 2000. Microsoft .NET Framework 2.0 (available with install). Internet connection. Hardware: CPU: at least Pentium III 1 GHz or analogical with 256Mb RAM minimum (512Mb recommended). However, the application is designed for Outlook 2000, 2002, 2003, 2007.
What are the OutShare and Web Access functional limitations?
The following item types are supported: Contacts, Mail items, Tasks Appointments (ordinary Calendar items), Meetings (Calendar items with Attendees), Meeting Requests (special e-mails with a request for Meeting). The following item types are not supported: Document items (files that were dragged and dropped or otherwise moved to Outlook), Report items (e-mail delivery receipts), Post items, Journal items, Notes, Custom items (items that have a custom form), Task Requests (special e-mails with a request for Task). OutShare Web Access is available in read-only mode and you will be able to print and share the Web access to specific folders or selected items; export to cvs and vCard, vCalendar file format only.


Security?
4Team is firmly committed to the privacy of our users, and we make it a high priority to help ensure the security and confidentiality of the information you provide.
Your account information is encrypted and stored behind a firewall, and OutShare Service uses industry-standard SSL (secure socket layer) technology to protect every interaction you have with the OutShare system. All information is backed up on daily basis and located on the best dedicated hosting providers in the United States.
The information you provide will not be shared or sold, and it will be used solely for the purpose for which it was provided. For more details, please see our Privacy Policy.
How do I upgrade to new versions of OutShare?
Currently, there is no automatic notifications of new versions. We will notify you by email or you can check manually by going to: Help Menu > About > Check for Update. You don't need to uninstall the previous version. The only requirement is to close your Outlook and disconnect portable devices that you may be using to sync with your Outlook.

For complete release notes, visit our release notes page.

To see what version of OutShare you're currently running, go to the Help Menu > About.
**4Team Exchange Server is separate server application that used as a base for OutShare Service. This application will be available for downloading during 1Q of 2008.